Christmas House is very happy to announce that the location of the Christmas House store will be in the Everett Boys and Girls Club community gymnasium. The use of the gym between Thanksgiving and Christmas weekends is a much-appreciated donation, as the facility and location are a perfect home for the Christmas House "store."
For many years, the Boys and Girls Clubs of Snohomish County have been in the forefront of youth development, dedicated to ensuring that all our youth have a greater access to recreational and educational activities that will enhance their lives and shape their future.
The Everett Boys and Girls Club is located at 2316 12th Street, Everett.
Tour the Christmas House Store
Upon entering the Christmas House store, shoppers fill out paperwork and proceed through the verification and check-in procedure.
Parents team up with a volunteer who accompanies them to the gift tables that are appropriate for the ages of their children.
Stocking Stuffer. First stop is the stocking stuffer table, where parents choose one item for each of their children age infant- 18.
Hat/Gloves/Scarf. Parents may also choose a hat, gloves or scarf for each child.
Stuffed Animal. Each child age infant-18 receives a stuffed animal (when we have an adequate supply). Everything from beanie babies to huge Disney characters come and go on the table.
Books. The book table features a wide variety of new and "like new" books. Each shopper may choose one book for each child.
Family Gift. The family gift table features miscellaneous and Christmas items. One gift per family. "Sharing Wheels" refurbishes used bikes and donates them to Christmas House. They are offered as a choice at the Family table.
Child Small Gift. Each child receives one small gift and one large gift. The small gift table for children age infant-8 offers a fun selection, including games and puzzles.
Child Large Gift. Beautiful dolls, trucks, building sets, educational toys and riding toys are among some of the favorites at the large toy table for children age infant-8.
Pre-Teen Small Gift. The pre-teen small gift table features gifts for children age 9-12. Fun craft kits, games, sport balls and DVDs are just a few of the items available at this table.
Pre-Teen Large Gift. Pre-teens also receive one large gift. Among choices at this table, parents often find alarm clocks, remote-control cars, watches and even new bicycles.
Teen Small Gift. Jewelry, games, wallets and perfumes are among the gift selections on the teen small gift table (age 13-18).
Teen Large Gift. Fashion items, hair dryers, jewelry boxes, electronic games and sports equipment make their way from the teen large gift table to under the Christmas tree.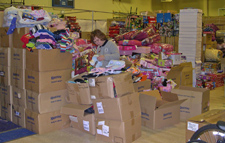 "Santa's workshop," behind the store wall partitions, starts out very well-stocked, all organized into sections by the many volunteers that help move all the merchandise from storage areas into the gym late each November.
The hundreds of boxes of toys that volunteers move into Santa's Workshop must all be unpacked and sorted before being moved out into the "store" area for selection.