View 2019 shopping qualifications in print version.
(English) (Spanish) (Russian)
_______________________
Shopper Qualifications
Christmas House provides holiday gifts for qualifying, low-income, Snohomish County families with children aged 18 or younger. We are a privately funded charity, not a government funded program. To qualify to shop at Christmas House, you must:
be a resident of Snohomish County,
have children aged 18 or younger living in your custody, and
have a household income at or below 150% of the poverty level, as defined by the United States Department of Health and Human Services (View 2019 Income Chart).
ID, proof of income, proof of custody and Snohomish County residency are required. Christmas House does not pre-register.No children or infants are permitted inside Christmas House.
2019 Christmas House Calendar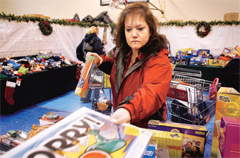 Photo courtesy of The Herald
2019 Christmas House Shopper Information
Christmas House will be open December 5 – 21, 2019.
Hours of operation will be:

Tuesday – Friday, 9:00 a.m. – 1:00 p.m.
Saturdays, 9:00 a.m. – 2:30 p.m.
Sundays and Mondays closed

Christmas House will be located at the Everett Boys and Girls Club, 2316 – 12th Street.
There is no advance registration. Admission is by number.
Numbers will be passed out daily starting between 6:30-7 a.m. until one hour before closing time or until the numbers are gone, whichever occurs first.
On Tuesday through Friday, 200* numbers will be given out. 300* numbers will be given out on Saturdays (*subject to donations)
Registration begins about 8:30, shopping begins at 9:00.
Shoppers will be given a number and an estimate of what time the number will be called. If shoppers are not present when their number is called, there is no guarantee they will be allowed to shop. Numbers can only be used on the day they are received.
Persons with disabilities or other documented medical problems are able to make special arrangements by calling 425-338-2273. A doctor's letter is required.
Only one person per family can enter Christmas House. All other family members wait outside. No children or infants are permitted inside Christmas House.
There are no public restrooms inside.
No smoking of any kind on premises.
Parking is limited.
Identification plus proof of low income status, custody, child's age and Snohomish County address is required. Shoppers without proper identification or documentation must return with the required information.
Necessary Documentation:
Current photo ID or passport for the shopper.
Proof of spouse/significant other living in household (current ID, passport, birth certificate, current DSHS forms listing person, marriage certificate).
Proof of current Snohomish County address (ID; DSHS award letter or printout of benefits that's less than 90 days old; paycheck stub showing home address; utility bill).
Proof of children, birth dates & guardianship (birth certificate; DSHS award letter that's less than 90 days old; baptism certificate; court papers; School District free lunch award letter).
Proof of household income (current pay stub(s); DSHS award letter that's less than 90 days old; government pay stubs such as social security or veterans pay; proof of support payments such as child or spousal support).
The Everett Boys and Girls Club is located at 2316 12th Street, Everett.  View map.